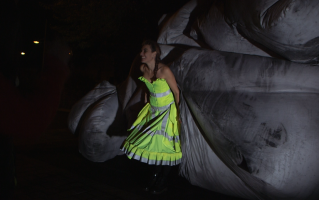 Elizabeth is graduated from the Superior Art School of Brest (2000). She practices drawing, sculpture, molecular cuisine as an artistic material, and she also creates art movies and art performances.
Since 2011, she has been co-signing her creations with various choreographers, orchestras, visual artists, directors, and multidisciplinary collectives. She notably created "Coatchie Bonheur, the creative training that makes you happy" with performer Sébastien Roux inside the installation Flamme Eternelle by Thomas Hirschhorn at the Palais de Tokyo (Paris). She was represented by the Gabriel & Gabriel Gallery then the Santo Amor Gallery, and she received the jury prize at the DDessin drawing fair in Paris in 2013.
In 2015 she founded the duo Pigeon Pourri + Bisou Love with Cyril Leclerc, their performances are programmed in international visual and digital arts festivals. In 2017, she was chosen by the French Institute of Saint Petersburg to represent France in a tour of exhibitions in 6 Russian cities.